Even though I love fashion with all it's trendiness, colors du jour, season shoe options, "It" handbags, at heart I'm a classicist who appreciates a good timeless wardrobe. Always making it my own by jazzing it up! This is how my blog came to be. Last summer I compiled a "How To" manual, 'Essential waRdrobe Basics, What to Wear and How a Guide to Getting it Right'…a summer indie project. Needing to market it, I decided via the web would be the way to go. I had a simple two page site created, www.estherbrook.com, (where it could be purchased). Then I thought why not add a link for a blog. …  I quickly had to spring into action so I decided to write about what I know best, fashion and interior design.



WHAT'S IN STORE FOR THIS UP-COMING FALL FASHION SEASON?
I can't believe summer is almost over (it's darker earlier, and a coolness in the evening air exist)…but there's always a chance of a reprieve… Indian Summer, allowing the summer season to linger just a bit longer.
Regardless if you are a true fashion enthusiast, or even have only a remote interest in fashion, you'll want to be on point, so lets see what's trending.
Lets start with the color of the season, the hue runs the gamut. Burgundy, Crimson, Bordeaux, Wine, Merlot, Oxblood, and Plum. Think rich, royal, colors…fit for the queen that you are.
Pantone swatches
Pants take the lead this season, try them cropped to show a little ankle (perfect for showing off those fab shoes)!  Fabrics of brocade, damask in floral or geometric patterns are a welcome surprise this season. They can be found at every price point too.
              Stella McCartney

Balmain                                            Elizabeth and James

What are the must have items to add this season which will inject a little fresh sensibility and modernity into your existing wardrobe? Well how about starting with anything having a peplum, the waist defining, curve enhancing addition of fabric around the waist area added to any jacket, skirt, pant, sweater or top (I believe a top, sweater or jacket is much easier to wear). For a little luxe try it in leather, lace or silk, and for a more casual vibe try a jersey, or wool knit option.
Haider Ackerman                                                          Topshop                                                       3.1 Phillip Lim
                       Elizabeth and James                                                           Carven                                                  Marc by Marc Jacobs
            
Leather is also at the top of the list this season for modernizing your look. Why not try a statement making  A-line skirt whether it be knee length, or a more playful mid-thigh selection. A flattering slim leather pant is quite forgiving or if you've kept up with your work-outs this summer add leather leggings to the mix, try tossing on one of the seasons comfy embellished sweatshirts to instantly bring your look into the 21st century. A sheath leather dress embossed, embroidered, with laser cut-out perforations or just it's simple shape and suppleness of hand is also an easy update too. Keep in mind if the real thing is a bit out of your price range, there are several designers who are using nice quality faux leather!
                   Burberry

                                                    Joseph                                                     
Austin Reed
                          Valentino                                          Joseph                                         
Versace
Alexander McQueen
    
Go baroque, and add novelty to your wardrobe with richly woven and hued damask or tapestry like patterns whether in a slim pant, jacket, dress or skirt.
Balmain                                                                  Zac Posen                                                               Cynthia Rowley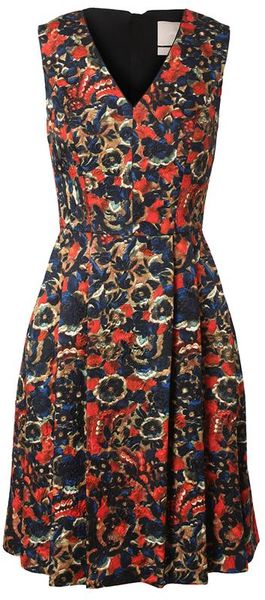 Kenzo
Peter Pilotto
                                                 Jason Wu
                      Marc Jacobs                                                                   Etro                                                       Zac Posen
In footwear everything from
brogues
(an oxford type flat laced shoe with perforations) to pointy toed 
stilettos
 or skyscraper
platforms
adorned with opulent embellishments are the way to go.
            
                              J. Crew                                                           Jimmy Choo                                                         Prada   
Handbags are more streamlined yet still ample enough for the girl on the go to tote around the daily necessities, whether it be  i-pad, kindle, cell phone, make-up case, travel umbrella, ballet flats, wallet, etc…
Reed Krakoff
Celine
Valentino
And keep in mind anything which is 
embellished, 
decorated with lace, embroidery, 
decadently bejeweled, studded, or sequined will add interest to everything from footwear, handbags, coats, sweaters, dresses, pants, skirts, and blouses!

Prada                                                                         Miu Miu                                                     Dolce Gabbana

Valentino                                                                     Zara                                                                     Dior  

               H & M                                                                                    Prada                                                                Tory Burch                                                                                                                                      
  
Boldly printed geometric patterns, abstract paint splattered designs as well as bright beautiful floral motifs adorn this seasons clothing.

                                                   Prada                                                                  Proenza Schouler                                         Erdem
FALL 2012 PREVIEW:
http://pinterest.com/bellabrook/fall-2012-looks/
A FEW OF MY FAVORITE THINGS:
Place Setting (Mottahedeh, Lynn Chase & J. Seignolles China with Richelieu Flatware and Vintage Crystal)
Cartier Tank Francaise Watch
Blackamoor Candelabra, Cherub with Birds Statue, Bust of Japanese Woman
Casedi Cobalt Blue Pumps
Lacquered Tray
YSL Mombasa Denim Handbag Bag
Antique Crystal Decanter
Amethyst Ring
Floral & Gilt Gift Wrap Paper
A few
months ago I spoke about living in a very serene space for the past eight years, (various shades of ivory's, butter cream and white) and my desire to add bold, cheerful, color to my home. Well, I tackled one small space; my entry foyer (which I use as my home office). 
How pleased I am with the out come. It really is amazing how just a simple coat of paint can really affect and alter your mood. Every day when I open my front door and my customized shade of "Robin's Egg Blue" welcomes me in (along with my Brussels Griffon Hunter of course), I automatically feel a bit lighter in spirit! Take a look at the transformation a simple coat of paint can inspire.
BEFORE:
AFTER:
  INTERIOR DESIGN:
  BEFORE & AFTER
THE DETAILS:
MY SANCTUARY:
Click on my pinterest link below for more inspiring "Robin's Egg Blue" interior ideas.
http://pinterest.com/bellabrook/robin-s-egg-blue/
BELLA'S Fund:



To learn more about this please see my June 25th post.
Click Below Link to donate:
http://cota.donorpages.com/PatientOnlineDonation/COTAforBellaT/
Or you may mail your donation to:
Children's Organ Transplant Association
2501 West Cota Drive
Bloomington, Indiana 47403
***Check made payable to: COTA
***Memo: In honor of Bella Tomlinson



Thank you in advance for your generosity, support, well wishes and love; it is greatly appreciated!




Until next time….."Work It"
ERB  
Esther welcomes opportunities to style individuals or interiors as well as promote fashion and design events.
All personal images are owned by "Esther's Essentials" and may not be used in any way without my consent. Please email me at info@estherbrook.com for any request.